Sleep apnea and snoring solutions
People who snore or suffer from obstructive sleep apnoea do not reach the levels of consistent quality sleep that allows the mind and body to rest and regenerate. Untreated OSA can have significant impacts on quality of life, ability to work and function normally. A sleep surgeon can provide a comprehensive assessment and tailored treatment options.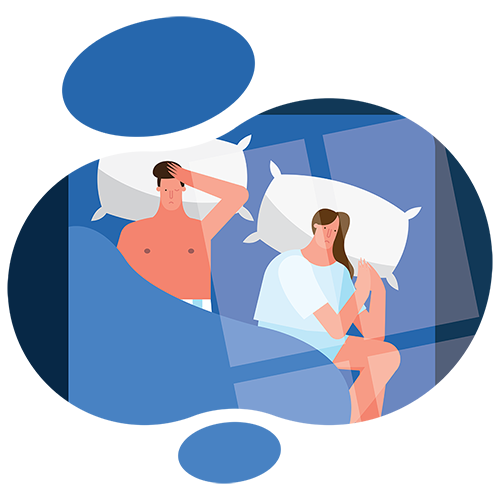 OSA affects up to 25% of men (1 in 4!) and 10% of women in Western Society. Recent data has suggested approximately 1 billion people world-wide are affected.
impacts of obstructive sleep apnoea and snoring
What you might see as just snoring or nasal congestion may be a serious medical condition that can impact every area of life.
Snoring and obstructive sleep apnea (OSA) symptoms can vary from mild to severe. For many, symptoms might be as minor as snoring or disturbed sleep. For others, the drop in blood oxygen levels can place stress on the major organs and can lead to an increased risk of more serious, long-term health conditions if left untreated.
Occurrences of sleep apnoea can happen once or twice a minute, or all night long. The impact of lack of sleep can also have longer-term health impacts as the body is not given adequate time to rest and recharge.
Obstructive sleep apnea (OSA) can take its toll in every area of life leading to low energy and mood, low libido, poor performance at work, stress on relationships, irritability and general lack of motivation.
The link between snoring and obstructive sleep apnoea
There are close and often direct links between snoring and sleep apnoea. While snoring doesn't cause direct health symptoms, it can lead to embarrassment and a lack of intimacy as couples are forced to sleep apart which can subsequently cause a breakdown in relationships.
No two cases of snoring or sleep apnoea are ever the same. When snoring and sleep apnoea start to impact daily life, we recommend making an appointment with an ENT specialist with training in snoring and OSA surgery (Sleep Surgery) to help you decide the best course of action.
Signs of obstructive sleep apnoea in adults
While feeling sleepy during the day is a common sign of obstructive sleep apnoea (OSA), here are some signs that you or your partner may be experiencing this condition:
Loud snoring: Snoring isn't a medical concern on its own and some light snoring is considered normal after a heavy meal or during illness. When snoring is still loud in all sleeping positions or it affects the quality of sleep of a partner, it may need investigation.
Changes to breathing while asleep: Sleep apnoea may result in pauses in breathing or gasping or choking while asleep. It is often left to the partner of someone living with sleep apnoea to wake them, unblocking the upper airway and jolting the breathing back to normal.
Waking up tired: Adults need between six and eight hours of quality sleep a night. If you're waking up after this time still feeling tired or feeling sleepy during the day, you may have a sleep apnoea. Similarly, extreme tiredness, lack of concentration or brain fog throughout the day may also signal sleep apnoea.
While sleep apnoea is just an inconvenience for many, for others, it can be a contributing factor to serious medical conditions such as high blood pressure, stroke, or heart failure. We recommend you consult with a specialist with appropriate training in sleep surgery if you experience these symptoms.
Snoring and sleep apnea treatment
Sleep apnoea is generally diagnosed by studying patient history specifically focusing on snoring, laboured breathing, choking or stopping breathing in sleep. We recommend bringing a partner with you to the appointment, or recording your sleep with video and bringing the recording to your first appointment with our sleep specialist.
Formal Sleep Study (Polysomnogram)
Often, the first step in diagnosing and treating sleep apnoea and creating sound sleep is a sleep study, otherwise referred to as a polysomnogram (PSG). A sleep study can take place at home, but usually takes place during an overnight stay in a specialised sleep laboratory. A physical examination may also take place to measure relevant parameters so we can assess the severity of any obstructions to the upper airway and the risk of the condition.  If you have not had one of these prior to your consultation, we can arrange this for you if needed.
At-Home Sleep Study options
These are available in some areas and we can discuss your suitability at your consultation.
Physical Examination
To complete the OSA assessment, a thorough physical examination is undertaken to identify levels of obstruction and the role for interventions.
snoring and sleep apnoea treatment options
Non-surgical and conservative options
Non-surgical options can include lifestyle changes, treating nose and sinus complaints and changing the way you sleep. For example:
Losing weight through improved diet and exercise
Reducing alcohol and sedating medications
Addressing nose and sinus complaints such as allergies and inflammation
Avoid sleeping on your back, sleep on your side instead
Mandibular advancement splints
This dental device is a mouth guard that is fitted and joined to help bring the lower jaw forward, tightening the tissues of the upper airways to prevent obstruction during sleep, reducing sleep apnoea episodes and minimising or preventing snoring.
CPAP - Continuous positive airway pressure
CPAP is a mask device (full face mask or nasal prongs/nasal pillows) that delivers a constant column of air pressure to the airway keeping it open and preventing collapse. A CPAP machine is a very effective method to treat the symptoms of sleep apnoea when used consistently and correctly. Unfortunately a large proportion of patients do not tolerate the device or do not wear it enough to gain benefits.
Surgical treatment for OSA and snoring
Surgical treatment for OSA and snoring surgery are complex undertakings and often require attention to multiple levels of the airway.  The objectives of surgical treatment for OSA include:
Facilitate the use of CPAP or MAS (Mandibular Advancement Splint) where these treatments remain the best option for the patient
Significantly reduce the severity of OSA/snoring and associated symptoms
We are dedicated to providing comprehensive and individualised surgical plans for all of our OSA patients wishing to consider surgery.
In summary, surgical management of OSA may involve one, or a combination of:
Palate surgery: Repositioning surgery to the soft, and occasionally hard palate to improve airway and reduce snoring
Tongue and tongue base: Reduction in bulk of tongue, and lingual tonsil with multiple variations/options
Skeletal surgery: Bringing the upper and lower jaws forward, usually performed by an oral and maxillofacial surgeon
Hypoglossal nerve stimulation: Advanced technology where the tongue is stimulated forward by an implanted device while asleep
Drug-induced sleep endoscopy (DISE): When there is a question regarding the levels of upper airway collapse in obstructive sleep apnea (OSA), a diagnostic procedure known as DISE can be performed to identify surgically correctable levels of collapse
As no two cases of obstructive sleep apnea (OSA) are ever the same, our sleep surgeon will design a personalised surgical plan for any patient who wishes to consider surgery.
Sleep apnoea treatment outcomes
Snoring and sleep apnoea are conditions many people learn to live with.  We help patients with OSA and snoring to reduce the risk of severe health complications such as stroke, heart disease and premature mortality. We want to help patients improve their quality of life by reducing tiredness and fatigue during the day and other sleep apnoea symptoms such as low energy, mood disorders and reduced cognitive function. We also aim to reduce the severity of snoring contributing to better relationships for the patient and their bed partner!
To find out more about treatment for snoring and sleep apnoea, contact us today.
Any surgical or invasive procedure carries risks. Before proceeding you should seek a second opinion from an appropriately qualified health practitioner.
Frequently asked questions about Sleep Apnea and Snoring
No, but with a valid GP referral you will receive a Medicare rebate on your appointment costs
Please do not attend if unwell. Call us as soon as possible to reschedule.
We need 24 hours notice to cancel or rearrange an appointment
Yes. Please consult with your GP first to request a referral to see us.
Untreated OSA can have significant impacts on quality of life and long term health consequences.
The most obvious symptoms can include loud snoring, changes to breathing during sleep, and consistently waking up tired.
Non-surgical options can include lifestyle changes, treating nose and sinus complaints with medication, changing the way you sleep, Mandibular advancement splints, or CPAP.
CPAP is a mask device (full face mask or nasal prongs/nasal pillows) that delivers a constant column of air pressure to the airway keeping it open and preventing collapse.

Fellow of the Royal Australasian College of Surgeons

International Surgical Sleep Society

The Australian Society of Otolaryngology