Deviated septum surgery for improved nasal breathing
Septoplasty, also known as deviated septum surgery, is an operation performed to correct a bent nasal septum by reshaping or removing nasal bone and cartilage to improve airflow and breathing.
The goal of septoplasty is to improve the function of the nose by reducing nasal blockage caused by a deviated septum.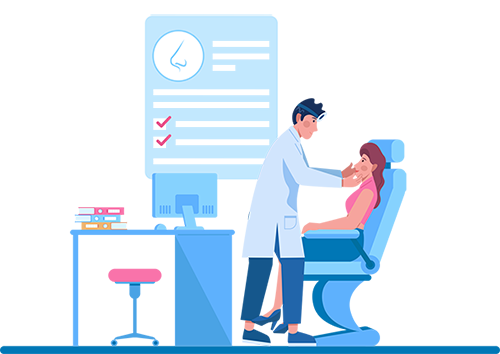 The nasal septum is the internal wall between the Right and Left side of the nose. It is made up of cartilage and bone. The septum guides airflow through the nostrils and is covered by a membrane with a rich supply of blood vessels.
Ideally, the nasal septum should be exactly in the centre of the nose, so that the left and right nostrils are equally sized. Sometimes, for varying reasons – whether it be previous nasal trauma or just the way the septum has developed – the septum may be bent or uneven. When the septum is deviated, one nasal passage is likely to be smaller than the other.
A septoplasty straightens the septum, evening up the nasal cavity, resulting in improved breathing.
Key Points about Deviated septum surgery:
Minimally invasive
Surgery is performed from inside the nose with no external cuts or changes in nasal appearance
Can be performed as Day Surgery
Patients can go home the same day in most circumstances
Minimal pain
Patients tend to experience a feeling of congestion post-surgery, without severe pain
Breathe easier
Improved nasal function, improved mucous drainage and better results from nasal medications
Nasal obstruction, blocked nose and difficulty breathing
A deviated septum causes nasal blockage because one side of the nasal passage is wider while the other side is smaller and narrower. This changes the airflow pattern in the nose and may block the narrower side of the nose (or both sides).
While a deviated septum can be congenital (present at birth) it may also be caused by injury such as a sporting accident or car accident.
Other symptoms of a deviated septum that may be an indication for surgery:
Sinus disease - inflammation/infections of the sinuses; a septoplasty is likely to be requires as part of a sinus operation
Allergic rhinitis (nasal allergies) - septoplasty can enable more effective delivery of nasal medications and improve baseline breathing
Snoring or obstructive sleep apnea
To enable a patient with sleep apnoea to use CPAP or oral device effectively
How is septoplasty carried out?
This surgery is performed under general anaesthesia, through the nasal passageways without any external incisions or cuts. This means it does not involve cutting through the skin of the nose as the procedure is performed entirely through the nostrils. It does not change the appearance of the nose.
The procedure is performed using headlights and telescopes in the nose.
Through an incision made inside the nostril, the tissue covering the septum is lifted to allow access to the bone and cartilage.
The deviated sections of bone and cartilage are then removed or reshaped while ensuring the shape of the nose is maintained. The incision is stitched closed (with dissolvable sutures).
Sometimes soft plastic splints or sheets are placed inside the nose to help the healing process and reduce scar tissue formation.
Surgery typically takes 1-2 hours.
Septoplasty and turbinoplasty
In many cases, a septoplasty and turbinoplasty will be conducted together with the goal of achieving the most beneficial outcome for patients. Similar to a deviated septum, the turbinates can also hinder airflow and make breathing through the nose more difficult.
Turbinates are structures on the wall of nasal passageways covered by soft tissue called mucosa. Turbinates cleanse and humidify the air that passes through the nostrils. The turbinates get swollen, congested and produce thick mucous in response to allergy and inflammation.
During a septoplasty, the septum is straightened so that air flows through both sides of the nose as intended. In a turbinoplasty, the turbinates are reduced to improve breathing and mucus drainage while conserving enough turbinate tissue for the turbinates to function.
Deviated septum surgery preparation and aftercare
All patients of Melbourne Sleep Surgery receive detailed information about what to expect before, during and after the septoplasty procedure as well as risks of the procedure. During consultation Dr Nathan can address any questions or concerns and offer additional information to help patients understand their options and how to take the next step.
Some things to consider are:
Medications - blood thinners for example can cause complications in any type of nasal surgery
When you are expected back for follow up appointments
How to care for your nose after surgery
How physically active you can be after surgery
For the safest and most effective outcome of surgery it is important to follow medical advice.
Septoplasty: the procedure
Admission to hospital
Detailed instructions will be given prior to admission
Operating theatre
General anaesthetic is administered by your anaesthetist
Nose preparation
Anaesthetic injections and decongestant into nose for optimal operative conditions
After surgery
With nasal/sinus surgery, dissolvable packing is often left in the nose to encourage faster healing
The next day
Commence rinsing the nose with salty solution, pain relief as needed
2-3 weeks post-surgery
Nasal breathing/symptom improvements once swelling subsides
Frequently asked questions about Septoplasty
The surgery takes approximately 1-2 hours depending on each case.
Patients may experience some discomfort and pain for a few days after surgery although pain management medications are prescribed to help you through this period. It is normally not excessively painful. Nasal congestion is normal post-operative.
The goal of septoplasty is to correct a deviated septum and improve the functionality of the nose. This does not usually change the external shape of the nose.
As with all surgical procedures there are risks involved. However the risk of serious complications is low. All risks will be discussed in detail prior to surgery.
Patients undertaking desk duties or light duties may be able to return to work in a few days. Any strenuous or physical jobs require 2 weeks off work. Patients will be back to normal exercise after 2 weeks.
As the procedure is performed through the nostrils and does not require external incisions, patients can usually go home the same day. Patients will need to arrange a family member or friend to transport home. Dr Nathan will share detailed post-operative instructions before surgery.
Every patient is different. Our team conducts a comprehensive assessment and examination and prepares a unique treatment plan for each patient.
It's best to avoid blowing your nose for 2 weeks after surgery to minimise the risk of bleeding.
It's suggested to avoid strenuous activity for at least 2 weeks.
Any surgical or invasive procedure carries risks. Before proceeding you should seek a second opinion from an appropriately qualified health practitioner.

Fellow of the Royal Australasian College of Surgeons

International Surgical Sleep Society

The Australian Society of Otolaryngology